Audi A3 - S3 - RS3 2003/2012 Car radio Touchscreen DVD GPS USB SD IPOD Bluetooth TV
FREE DELIVERY AND CAMERA Car radio Audi A3 - S3 - RS3 2003/2012 - Capacitive Touchscreen 7" HD 1024X600 - DVD - GPS - TV DVB-T - IPOD - SD - USB - FM - RDS - Bluetooth - Canbus - Dualzone - Compatible Steering Wheel - Supports 1080p HD video -
3 year warranty
14 days money back guarantee
Quick delivery
 Car radio GPS Audi A3 - S3 - RS3 DVD Bluetooth ipod TV usb sd tv digital
Car radio Audi A3 - S3 - RS3 2003/2012 - Capacitive Touchscreen 7" HD 1024X600 - DVD - GPS - TV DVB-T - IPOD - SD - USB - FM - RDS - Bluetooth - Canbus - Dualzone  - Compatible Steering Wheel - Supports 1080p HD video -
Compatible : 
- Audi A3 - S3 - RS3 2003/2012
Compatible with original & BOSE amplified systems
Replaces original car radios: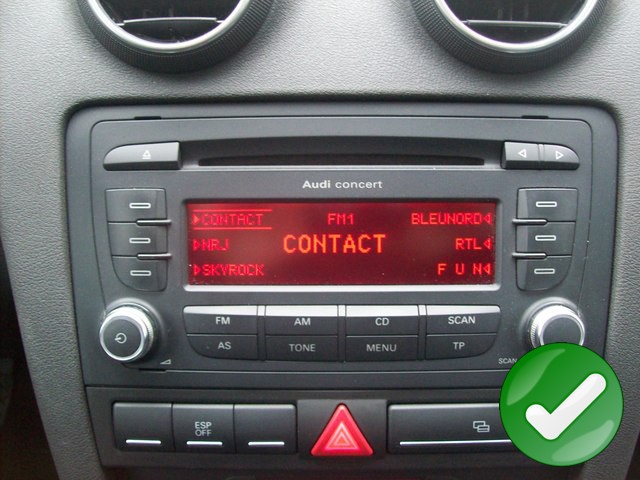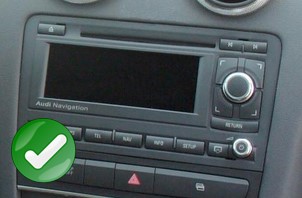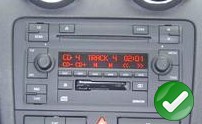 Car radio Audi A3 - S3 - RS3 2003/2012 has an entertainment center for multimedia communication and navigation .It has a CD / DVD with all that he is able to play DVDs, DIVX, MP3 and photos. Its touch screen 7" allows you to take full advantage of its features beforehand with an intuitive and easy to use interface.
The BLUETOOTH lets you communicate hands-free with your mobile phone safely.
Its GPS module running on a Windows, allows you to navigate with ease and make you aware of the presence of any radar.
The tuner allows you to watch all the new TV channels.
The GPS software is installed on an SD card, and allows you to release the CD / DVD
The term Double -DIN, which means it is twice the size of a normal car radio slot.
There is also a USB input and a video input and 1 video output, allowing you to connect a reverse camera, game console or other video sources. It also has two audio outputs for amp. + CANBUS.

It allows you to connect a 3G/4G/WIFI key of your telephone company to allow you to surf theinternet using the browser "Internet Explorer". This feature is already integrated into the GPS unit.

feature:

DVD :
Supported Media: DVD -R / DVD + R / DVD- RW / DV + W / SVCD / VCD / CD- R / CD -R / CD- RW / CD + RW
Read Format: Audio CD / DVD / MP3 / MPEG4 / MPEG2 / Divx / Xvid / AVI / WMA / JPEG and more...
Virtual CD :
Internal memory 32GB. Then you can read without using the cd . Replaces a conventional CD changer (No need external charger ). Do a quick save (about 5 minutes for a CD) or back while listening to the CD (about 15 minutes).
USB Port:
Reading USB drive, USB HDD etc... Device recognized standard format to FAT 32

SD card reader :
Micro SD . Accepts SD card up to 32GB ID3 ( MP3: Name the artist, album title, song title ).

DVBT Tuner :
48 TV channels for free France and all the countries of Europe, Multi language / Multi Region comprises France makes a reception while driving 120KM / H.

radio:
AM / FM Rds 30 submissions, research stations automatically or manually, TA / PTY ect function... Caller ID station ( Rds ).

Bluetooth:
Allows connection to any Bluetooth mobile phone equipped with Bluetooth.
Microphone in front for hands-free calling. Conversation through the speakers of the car.
A2DP mode ( stereo music via bluetooth )
Caller ID, redial, hang up and stall, depending on mobile phone directory.

ipod:
Ipod control. Connect your iPod and drive it from the screen of the receiver. Charges your iPod at the same time.

Aux:
You can connect a rearview camera and a game console.

GPS:
CPU 1.2GHz ram DDR3 2GB Système Windows
Mode 2 areas can listen to music while having the navigation.

Maps Gps supported :
TomTom, IGO8, Route66, Destinator Finean pole nav Navigate 7, etc...

Display:
Capacitive Touchscreen 1024X600 matrix TFT LCD HD Digital 7" Digital Supports 1080p HD video.

Amplifier:
Mos-fet amplifier 4 x 55 Watt, 4 output pre - amp. Dolby Digital DTS 5-1

Menu:
( German French, English, 17 languages ... ) intuitive graphical interface. Order directly via the touch screen. Infrared remote control. Original remote driving with auto -learn commands.

Connection :
Food and speaker jack: Standard Iso
Preamp: 4 ( Front - Rear) RCA jack
Audio video input : 1 ( RCA jack)
Came back-up camera with automatic switching: 1
USB : 1
Taking radio antenna : 1
DVB-T antenna jack : 1 (SMA )
GPS antenna connector: 1 ( SMA)
RCA jack Taken Ipod : 1


Accessories:
Manual, remote control, GPS antenna , DVB-T antenna, AV cable, USB cable, Ipod cable, ISO cable + CANBUS, 2GB SD (GPS EUROPE Route66 , Igo8 or TomTom).


All products are tested and we can assure you it works flawlessly.

This product is revolutionary and it will allow you to have a very high-end equipment in your car, at the best price.

 
New product, 3 year warranty
No customer reviews for the moment.